30 Days of Maker Giveaways & St. Patrick's Day Sale !!!
Zazzle is running the most amazing giveaway of the year - 30 Days of Maker Giveaways!
Each day we will be featuring one Zazzle Maker and giving away their product to one winner.
At the end of the 30 days we'll be selecting one winner for the grand prize - $1000 shopping spree on Zazzle!
Don't miss it, Enter for a chance to win one of our amazing Maker Creations
Here's a sneak peek of the amazing products you could win - head over to 30 day giveaway page
to see all of them!
To add more happiness, the St. Patrick's Day Sale is extended,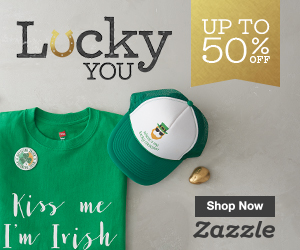 30% Off All T-Shirts & 15% Off All Orders -
Use code: LUCKYTEE4YOU -
Starts: 03/01/2016 Expires: 03/04/2016 11:59 PM PST
Make use of these giveaways and offers for the special occasions of yours in this season!!!